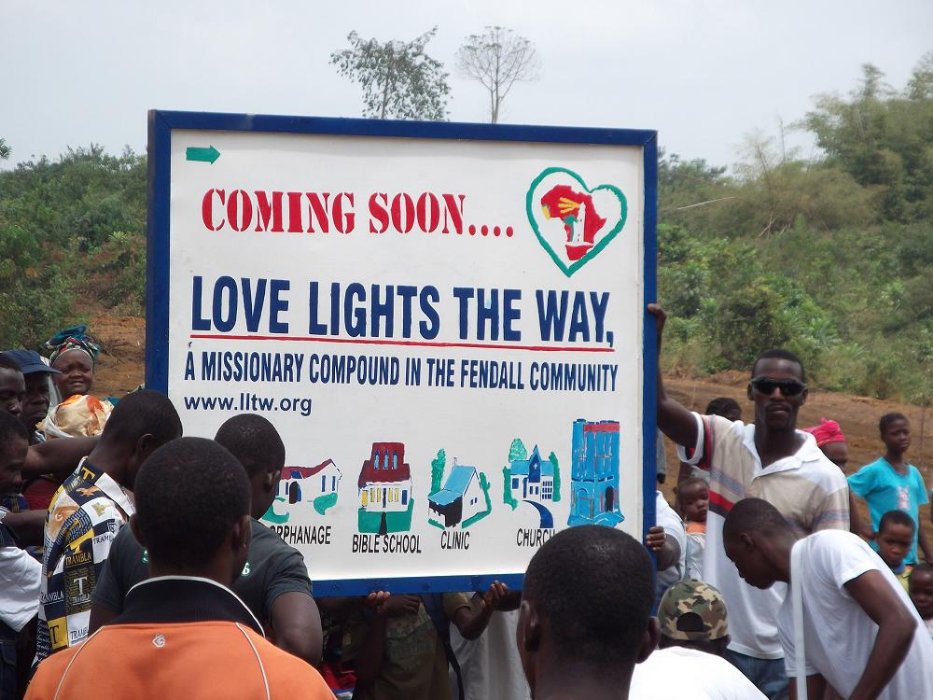 The goal of Love Lights the Way is to provide housing, health care, education, spiritual fulfillment, employment opportunities and hope to the children and adults of Liberia in the Fendell Region. Liberia was recovering from a devastating and horrific civil war which occurred from 1989 to 2003 when the epic viral outbreak of Ebola hit the country in 2014, killing over 4,800 people in Liberia alone and 11,300 overall. There is much work to do in Liberia. Most areas do not have paved roads, electricity, running water or plumbing. Many children cannot go to school because there aren't any where they are living. Many adults cannot read and even more have trouble finding sustainable employment. LLTW has purchased 10 acres of land outside the capital city of Monrovia. Love Lights the Way is building a campus to address these needs and do what it can to make Liberia a better, safer, healthier place.
In 2012 we installed a well, held a groundbreaking ceremony and built our first building, a warehouse/guardsman quarters. In 2015 we started construction on our elementary school/ church and established a church community. Our local preacher, James Saygarn, holds services with the people near Fendell every Sunday.

An Orphanage to house and provide for some of the many children whose parents were killed during the war or who have been left alone by other means.
A School to serve the needs of both the children living in the orphanage and the children of the greater Fendell community. We are building an elementary school and high school which will also contain a vocational/trade school. We started construction on our K-6 school in December 2015 and construction is still underway. Learn more about what we're doing now.
A Medical Clinic with nursing staff to provide medical care to the children of the mission and any people in need of medical assistance.
A Church of Christ to serve the entire Fendell community. We started our church December 2015 with Preacher James Saygarn. We are still constructing the future church building! Learn more about what we're doing now.
A Dormitory to house workers and visitors to the mission.
A Minister/Bible Training School to prepare men and women to minister to the needs of people both in the Fendell community and in communities across Liberia.
A Cassava Farm to grow crops to help fund the project as well as serve as financial aid and food for the residents of Lighthouse Village.

Other Projects
Scholarships to the best students. In 2016 we started giving scholarships to students in Liberia. Most of our scholarships are for college, university or technical schools but some are given for high school students.

Aid Distribution is given when needed. In 2014 during the height of the Ebola crisis, LLTW donated and distributed food to the Fendell area. Over 250 people from over 24 surrounding towns and villages received these needed supplies. We were glad to help out in such a rough time and will continue to help our beloved community.
This is a big undertaking that we cannot do alone. We need the help from great people with open hearts (like you!) to help us reach our goals. Click HERE to see how you can help!!!
Learn more about what we are doing now at Love Lights the Way and Lighthouse Village.