by Marian Lee
"It was 2003, during the war. I was walking with my friends to go home after studying. Then the (rebel) soldiers came, and started shooting and grabbing people, but they did not take me because I was handicapped. I was shoved to the ground in the mayhem. My crutches were thrown and I had not choice but to lay on the ground there until somebody could help me. UN Peacekeepers came and threw me in a truck, mistaking me for a rebel. I still had all my books, my everything. I was taken to Central (a Liberian prison holding station). I stayed there for three days without any food or water. The other prisoners who were already there beat the new ones who came into the jail but they didn't touch me. I could not walk or stand up, so I was allowed to sit in a corner of the prison cell. My family did not know I was there. On the fourth day, my family came with money to free me. They paid 1200$ Liberian dollars to the Liberian government to get me out."
No, these are not words for the chapter of a war story. This is what happened to Edwin Kortu, a Liberian war refugee, who lives and works today in Providence, Rhode Island.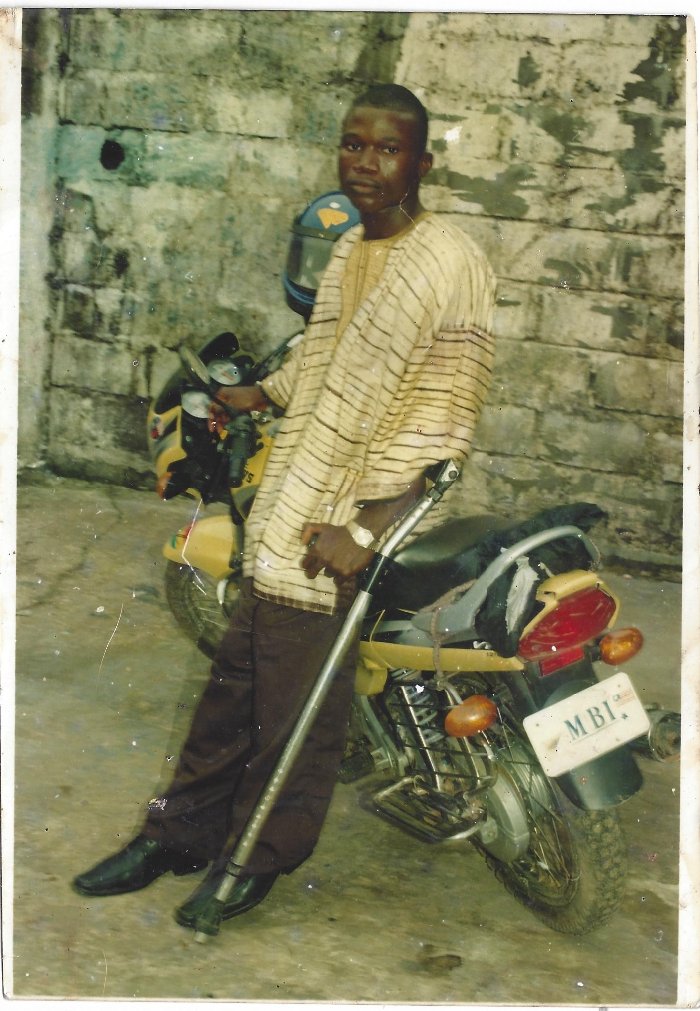 This is Edwin Kortu, on the day of his graduation

from highschool in Monrovia, Liberia.
Edwin Kortu was born in 1985 in a small Liberian town in Lofa County. At the tender age of 2, Edwin became very sick with polio and eventually became paralyzed. It was not until he was 4 years old, while he was living in a refugee camp in Guinea, that Edwin regained walking power back in his right leg, but never in his left one. For 8 years, (1989-1997), Edwin lived in a refugee camp in Guinea using crutches to help himself get around.
Anyone who has seen any video clippings or documentaries of Liberia's 14-year civil war may be aware that it was a time of death and poverty in that country. The aftermaths of war spread not only into the towns and villages in Liberia, but also into the crowded refugee camps of Guinea and other neighboring countries, where many fled to escape the destruction of war.
Despite the continuing war, in June 1997, Edwin returned to Liberia to live with his oldest sister, Kumba Kortu, in Monrovia so that he could go to school, since there were no schools in the refugee camp. Kumba, whom he calls "my mother, my father, my sister, my everything," was the one who raised him and always encouraged him to go to school. "With education you will survive. With education you will be able to help yourself and your family." It was his sister's words that emboldened him to continue studying and pressing forward with his life despite all the adversities he encountered living and studying in a war-torn Liberia.
From 1997-2007, Edwin studied quickly taking many classes. His sister paid for all his schooling until 9th grade. Kumba had to make many sacrifices to keep Edwin in school. At one time Kumba sold all of her clothes to pay for Edwin's classes. In 10th grade Edwin got a scholarship from the school. He finished 11-12th grade through a church-sponsored scholarship through the Leobatt Community Church, part of ACFI, African Christians Fellowship International.
Read Part 2 of Edwin's Story here, where we learn about what Edwin does after graduation from high school and his journey to America.