by Marian Lee
Find Part 1 of Edwin's story here: Part 1
Find Part 2 of Edwin's story here: Part 2
Once Edwin settled in Providence, one of his first missions was to connect with a church that would help him and his wife. That church was the Providence Church of Christ at 100 Elmwood Ave in Providence, RI, a primarily Liberian church, where he regularly attends. His first job was teaching the children's ministry at that church. During all his free time "I was at the church," said Edwin. For Edwin, the people in the church became his circle of family and friends who advised him, guided him, and walked along with him as he pursued his next dream.
Edwin tried to find work but had difficulty securing a job in a nursing position due to his disability and the fact that he walked with crutches. This didn't stop Edwin. He signed up at the Community College of Rhode Island (CCRI) with the intention of studying for a certification in phlebotomy. While at CCRI, he learned about the college's Stepping Up program and decided to switch his focus of study from nursing to radiology then finally, he decided to specialize in community health. Part of CCRI's community health program required doing a short internship at Rhode Island Hospital (RIH). In 2013, for his internship, Edwin served as an office assistant in RIH's business office.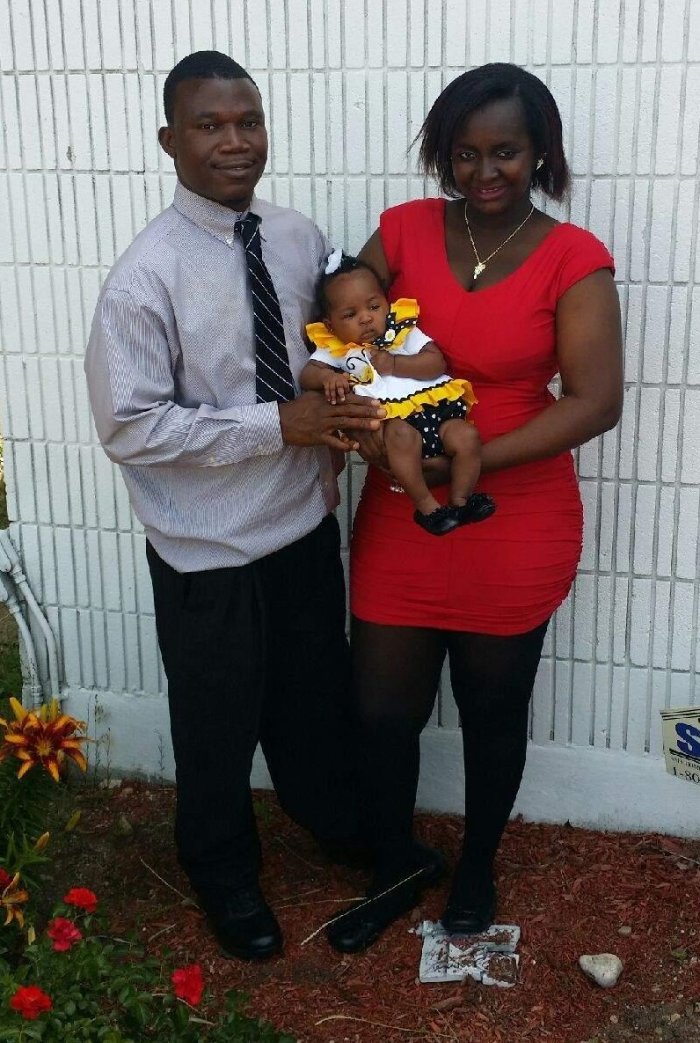 Edwin, his wife Princess and their new baby Edwina, today at the Providence Church of Christ.
In less than 2 years, Edwin graduated from CCRI with a degree in community health in Rhode Island. He was the commencement speaker for his graduating class and delivered a speech entitled, "How Coming To America Changed Me."
Six months after graduating from CCRI, yet unable to secure a job, an undeterred Edwin went to volunteer at Hope Clinic in Providence, RI. Hope Clinic is a medical clinic where the staff provides primary care medical services at little or no charge to the uninsured. Edwin first started at the front desk but later became an intake specialist there at the clinic. While working there, he met Dr. Thomas Mancini who would change Edwin and help him to walk without the need for crutches. Edwin told the doctor, who was also volunteering there, that he would like to get a brace to replace the crutch he was currently using to get around. Edwin knew that it was the crutch, which was preventing him from getting hired. For several months, the doctor would make calls, on Edwin's behalf, to try and find a medical facility that would give him a brace. Finally, on March 2013, Edwin received a brace for his paralyzed, left leg with help from Dr. Tom Mancini, and Dr. Annie, the lead doctor at Hope Clinic, and the South County Artificial Limb. It had taken three months and $3000.00 of donations, but Edwin was now able to walk around without a crutch! Edwin was walking on a brace! For Edwin it was another step toward greater independence and toward reaching his dream of becoming a radiology technician.
Edwin decided to return to RI Hospital. He wanted to pay a visit to see and thank the office manager who had helped him find his volunteer position at Hope Clinic all those years ago. So one day, Edwin walked into the business department of RI Hospital where he had done his CCRI internship. That walk, that visit paid off. Today, Edwin is working at RIH, though not yet in the radiology department. Edwin knows he still has a long road to walk before he can pass through the door toward his American dream, but he has not walked that road alone. He knows that the Lord Almighty had put many people in his path and continues to bring new people into his life to walk with him share the load as he walks his life's journey. He could name them for you starting with his sister Kumba and his uncle back in Liberia who started the journey with him. In America, he recalls names, faces and events going back to his days at CCRI, at RIH, and today at Love Lights the Way (LLTW) and his church family at the Providence Church of Christ.
When asked the role and significance of Love Light the Way (LLTW) in Liberia, Edwin had this to say. "LLTW is important because it wants to help the people of my country with medical and schooling needs." It has been 11 years since the Liberian war but there are still many children in that country who are not able to go to school. There are still many people who cannot get basic medical health care. Love Lights the Way "will help those who cannot help themselves."